Finding A Great Birthday party clown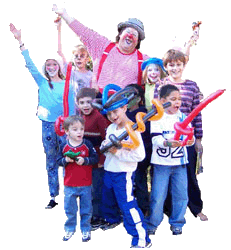 We would like top help you make sure your hiring the best possible birthday party clown available, at the time of your booking. Of course it's always good to plan ahead. The more experienced clowns get booked first, of course. But there may be gaps in their schedule that you may find at a later date, if your lucky.
So tip number one is to hire your Birthday Party Clown as early as possible, usually a month prior is adequate.
Find out if the Birthday party clown will be using the Birthday Child as an assistant during the show, if the age allows. You want to make sure that your child is given the special attention they deserve and that you will have plenty of those 'Kodak Moments'.
References are always good, but truthfully, who is going to send you to a person that would give them a so-so reference. So in regards to this, you might ask questions regarding punctuality, dependability, skill level and appearance. Did the kids have fun, were they occupied the whole time the Birthday Party Clown was there? Did the Birthday Child get to go first in the line for balloons, face-painting, etc... The more experineced clown will usually make sure this happens.
We here at All Around Entertainers want to help you find the best possible Birthday Party Clown available for your child. Even though we may do hundreds of parties a year we realize that this is your once a year celebration for your child and will treat it as such.