Winnie The Pooh Party Ideas
(Be sure to check out our costumed characters section by clicking on Winnie's picture)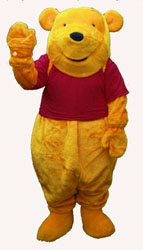 This Character Theme Party page is devoted to Winnie The Pooh and is provided as a courtesy to visitors on our website. It's purpose is to assist you busy Mom's in planning your Winnie The Pooh party. We have included links to Winnie The Pooh products, Winnie The Pooh game ideas, Winnie The Pooh decorating hints, Winnie The Pooh invitation designs and ideas that you will find helpful in planning your Winnie The Pooh party.
Invitations
Use the great invitations in Birthday Express' package!
For homemade invitations, you can: copy Pooh's head onto construction paper and write the information on the back; or place the details on paper, insert into a balloon, and hand deliver to your guests (remember Pooh is famous for his balloon ride); or use Pooh stickers on plain cards or construction paper and write party information in a wavy line like song lyrics. I'm sure you can think of even better ideas, too!
Food
Serve peanut-butter-and-honey sandwiches, another Pooh favorite!
Make edible rain clouds out of rice crispy treats, dipping half in chocolate for a stormy look
Rabbit loves carrots, so surprise the kids with carrot cake birthday cake, or simply serve some carrots and dip as a snack.
For a cake, check your local craft store for a baking mold of Winnie the Pooh, or decorate it yourself. The great thing about Pooh is how basic his shape is...try it!
Decorations (click on picture)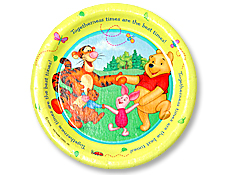 7" Plates
Winnie the Pooh games and Activities
Have guests do this activity upon arrival at your Winnie the Pooh Birthday Party:
Honey Pot Guess - Get clear plastic jar and fill with teddy grahams. Tie a yellow ribbon around the top and paint the word "Hunny" on it in black. Add a few Pooh stickers. Have kids guess how many are in the jar. The winner takes it home.

Start your party games with bubbles:
Bubble Bonanza - Using bubbles is a great way to get the really little kids involved in party games. Have an adult blow bubbles and let the kids chase and pop them. Pooh loves bubbles and they will too... personalized bubbles
(printed with a design and child's name or party slogan) make a great party favor and will remind them of the fun they had at your child's Pooh party.
Bear Hugs -

Have kids bring their own favorite stuffed Pooh character or teddy bear to the party. Place all the teddies in a big pile on a blanket with kids seated around it in a circle. Blindfold guests and see how long it takes them to find their own special animal. You can play this more than once.

When kids tire of it, have each child take an edge of the blanket. Take turns putting one of the stuffed bears in the center of the blanket and let kids give it a "ride" by jiggling the blanket. Play some Pooh music to make this even more fun.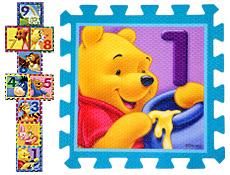 Pooh Hopscotch Game (click on picture) (makes a great gift, too)