HOUSTON CLOWNS, HOUSTON FACE-PAINTERS, HOUSTON THEME PARTY CHARACTERS, AND BALLOON ANIMAL TWISTERS TOO!
WE ARE THE BEST HOUSTON CLOWN ENTERTAINMENT SITE
WE HAVE ACCESS TO THE BEST HOUSTON CLOWN ENTERTAINERS AVAILABLE

| | |
| --- | --- |
| Here's what our clients are saying: | CONTACT INFO |
6 year old birthday girl (a repeat client) to her friends :

"Straws is Better than a moon jump"

L.C.R.C / The Landing Point CEO, Jim Ettinger:

"While watching you interact with the residents and guests last night I realized I was watching a true artist at work. This was a masterpiece...

CALL US

(832)465-2276
You want the best Houston clown available and the best children's entertainer for your child's party. Whether you need a face painter, clown, theme party character (i.e. cartoon look-a-like), or all around clown entertainer then your searching is done. You now can have an award winning children's party entertainer, balloon twister (animal balloons), comedy magician entertainer/clown at your child's special birthday party event. You can have a clown that combines all forms of entertainment including: comedy magic, juggling, face painting, balloon twisting and puppetry. This is where you can find all that and more.
We provide only the best kids entertainers that Houston has to offer and have had 18 years of experience booking children's birthday parties with clowns, face-painters, balloon twisters, cartoon characters, and magicians. Our client base is large and varied. Our clowns and entertainers will travel throughout the Houston metropolis area and neighboring communities.
Interesting tidbits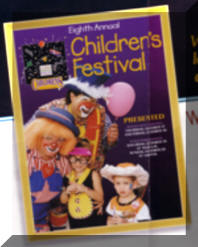 Well, here are a couple of our clowns on the cover of the Children's Festival Program.
Are we proud? You bet!
That's Straws and Sugarplum.
Did you know that the Texas Clown Association has a convention once a year and it holds lectures and competitions for clowns throughout the state to participate in?
Did you know that Straws the Clown has won 1st place in Balloon Twisting competition 6 times?
Happy Everything - click here for a cute picture to send your friends

This Site Built By www.BusinessWebsOnline.com