Spiderman Party Ideas
This Character Theme Party page is devoted to Spiderman and is provided as a courtesy to visitors on our website. It's purpose is to assist you busy Mom's in planning your Spiderman party. We have included links to Spiderman products, Spiderman game ideas, Spiderman decorating hints, Spiderman invitation designs and ideas that you will find helpful in planning your Spiderman party. Again, this is a courtesy. We do not represent these companies nor are we affiliated with them in any manner.
SILLY STRING, NEED I SAY MORE.......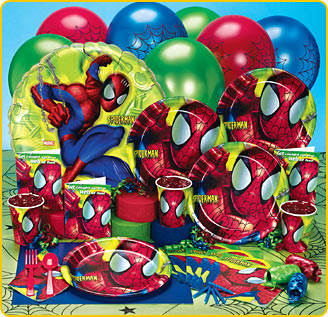 h1ttp://www.birthdayexpress.com/bexpress/product.asp?sku=E24431
Complete Spiderman Decorations and tableware (above link)
Web Walk (From www.AmazingMoms.com )
Just like a cake walk with webs!
Cut circles from poster board. Use a permanent marker to draw spider webs. In the center if each circle write a number.Place the webs in a circle. Play Spiderman theme music (or any fun music) and have the children step from web to web. When the music stops draw one of the numbers from a bag -- >the player on that number gets a sticker or candy.
When the children are younger, you'll want to have each child win every time.
I make baggies with corresponding numbers to the webs.
Example: Bag# 1 has stickers
#2 - jolly Ranchers #3 - pencils etc.....
Then the children will receive a variety of prizes.
Play this game several times.
GREEN GOBLIN JUICE (refreshment)
Watch your family bubble over with smiles and laughter with a Kool-Aid Fizz! By following the recipe below you can surprise them with a whole new FIZZ to their favorite drink!
1.
Place 2 Tbsp. of Lemonade KOOL-AID Sugar-Sweetened Soft Drink Mix in large glass.
2.
Gradually add 1 cup cold ginger ale, stirring until drink mix is completely dissolved.
3.
Serve over ice cubes.
Makes 1 serving.
A tip from Straws: Add some lime sherbet to this mix, oh so good....