Decorations:
Imaginative party decorations can be created on a shoestring budget. Some unique ideas include:
Construct an animal circus train using empty cereal, pasta or cracker boxes. Cut out the front and back; insert animal picture (either clip art or photographic image) or small plush toy. Use drinking straws to create a cage motif. Wheels can be added by decorating circles of foam core and attaching with glue. Craft a circus tent centerpiece with cardboard or foam core and colored pipe cleaners; decorate with markers or glue images to the cardboard/foam core to create a circus motif. This centerpiece can then be used as a dome for the birthday cake. Attach inflatable animals or plush toys to beach balls or decorated paint buckets, creating mini animal circus acts (you can also use colored sand pails for this creation). Decorate a backyard clothesline with bright color streamers and crepe paper to create a circus motif. Make it a BYOSA — "Bring your own stuffed animal" — party. Have each child bring their own favorite stuffed animal to create an animal circus parade. Purchase party supplies (plates, utensils, cups, blowers) at post-holiday sales. The variety of colors will fit perfectly with the circus theme. If a local store is having a grand opening, request the banners or pennant decorations when the event is over (these double as a great circus decoration).
Activities:

Have your guests visit a "clown makeover" bar equipped with makeup, old clothes, sunglasses, clown noses and wigs. Build your own beanbag toss with foam core boards. Decorate as clowns or circus animals. Make your own beanbags using dried beans and old socks. For summer outdoor parties, a water balloon toss is an ever-popular activity. Create your own circus-themed variation on pin the tail on the donkey, such as "pin the ball on the seal's nose" or "pin the nose on the clown." Lay a "tightrope" (jump rope from your child's closet) out on the ground for kids to test their high-wire skills. Award tickets throughout the party that kids can redeem for prizes at the end. Prizes can consist of fun items purchased in bulk, such as kazoos, whistles, key chains or bags of popcorn.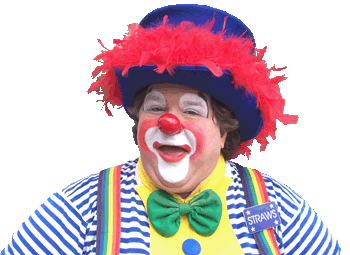 Happy Birthday
Food:

While the kids watch Straws' Magic show serve these delicious treats...

Magic Wands



(Makes 16 Wands)

Ingredients:

1 cup Pillsbury® Creamy Supreme® Chocolate Fudge Frosting; 1 cup chocolate candy sprinkles; 16 pretzel rods; 1/4 cup Pillsbury® Creamy Supreme® Vanilla Frosting.

Directions:

1. Line cookie sheet with foil. Place chocolate frosting in microwave­safe 13x9­inch (3­quart) glass baking dish. Microwave on HIGH for 10 to 15 seconds or until melted; stir until smooth. Place candy sprinkles in shallow dish.

2. Dip each pretzel rod in melted frosting, turning to coat completely. Roll rods in candy sprinkles; place on foil­lined cookie sheet. Refrigerate 30 minutes or until frosting is set.

3. Place sheet of foil on work surface. Place vanilla frosting in small microwave­safe bowl. Microwave on HIGH for 10 to 15 seconds or until softened. Dip 1 inch of each coated pretzel in vanilla frosting; place wands on foil. Let stand about 4 hours or until frosting is set.